Dr. Mark Vosti - Selecting the ideal office wall for his new collector oil "Rouge".

"Cejay Helt has captured the essence of nature through her use of color and perspective in many of her art pieces. The colors all seem familiar, as if I had seen them in person. I chose "Rouge" as my collectors piece because of the emotional reaction I had to the offset scenery. Somehow the godlike appearance of the sky in the distance brings peace to my soul in an unbalanced world."

Thank you for giving me the priviledge and opportunity to own one of your paintings. Each day I get comments on how beautiful it is. But most of my gratification comes when I take a minute to ponder its meaning. Many blessings to you for your great work.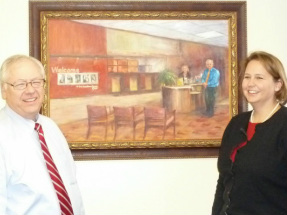 President Don Sutherland and Kami - Key Bank - Salt Lake City, UT - Cejay Helt's - KEY BANK GALA RE-OPENING
What an honor to be selected by Key Bank to paint a commissioned oil painting featuring two good friends, Don and Kami and depicting the interior lobby of Key Bank for the Gala Re-Opening of Key Bank in Salt Lake City, UT.
I enjoyed completing this oil painting during the celebration as patrons observed, asked questions and commented on the finishing touches.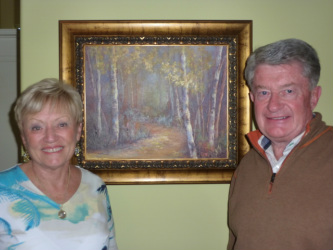 Dick and Sherry Miller - Miller Financial
"I purchased Cejay Helt's - "Autumn's Turn" for my husband's Birthday". We have really enjoyed this painting. The thing we really like about the piece is that you feel like you can walk right into the painting.

Cejay Helt's - Executive Collectors:

IHC Hospital, St. George, UT American Stores: CEO J.D. Scott
Sandy Chamber of Commerce, SLC, UT Dr. Jeff and Susie Knight
Ripe Concepts, CEO Paul Lyon, Manilla Phillipines
Leonard & Harriet Arrington
LDS Church Historian
Prudential Prestige, Gale Frandsen Bekins Van Lines-
CEO David & Meda Greensides
MS Foundation Kirton & McConkie
Atty Berne Broadbent
Jeff & Donna Martin, Tulsa, Okla. Denise Nydegyan, Highland, UT
Wayne & Janael Burt, SLC, UT Sheryl Snow, Santa Clara, UT
Mel & Renee Farnsworth, Ivins, UT Bank, SLC, UT
Dr. Dwayne & Ann Callahan, SLC, UT
Miller Financial, CEO Dick & Sherry Miller
Dr. Mark & Angela Vosti, SLC, UT

Additional galleries & collectors not listed


Cejay Helt's EXHIBITIONS :
Utah Symphony Series, SLC, UT LA Luxury Show, LA, CA
"A New Vision For The Arts" - Santa Clara, UT Utah State Fair, Professional Oils
Artist in Residence - Mission Gallery, St. Geo., UT
Salt Lake City "Parade of Homes", Entire "Valencia" Home
St. George "Parade of Homes", St. George, UT
Twiggs & Moore, SLC, UT
Michael Berry Gallery, SLC, UT Key Bank, SLC, UT
Intermountain Society of Artists, SLC, UT Bountiful/Davis Gallery, Bountiful, Utah
Magpie Gallery, SLC, UT